Cylinder RECOAT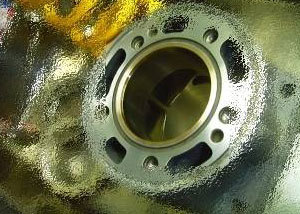 Cylinder RECOAT ~Over 5000 Qty re-coatingcylinders,used in Grand Prix
We have been dedicated ourselves to race support activities for the World Grand Prix racing scenes, including races in Japan. We will assist you with our know-how brought from Japan.
This is to apply composite plating to aluminum base cylinders.
It definitely fixes and renews burns and minor scratches.
Also by recoating the used parent metal of the cylinder, it generates margins to use conditions (water temperature control, etc.) generates because the parent metal becomes more stable.

However, some scratches may remain on cylinders with seriously deep scratches even after recoating.
We recommend you to send us the damaged cylinder first.

The common models for cylinder recoating are the following:
HONDA RS125, RS250, NSR250
YAMAHA TZ125, TZ250
Some models of SUZUKI RM125

All chamfering processes (including a process for an exhaust bridge) are included in the price.
However, please note that additional fees may apply for some cylinders with protection rings.

Price: ¥35,000 / cylinder (shipping charges included)
Delivery time: 4 to 5 weeks (into JAPAN)

[Disclaimer]
When you send us damaged cylinders, please write the following 3 items on outside of the box:
"Made in Japan"
"No commercial Value"
"Damage Parts"

This is to minimize troubles that may be caused at customs clearance.