◆ Features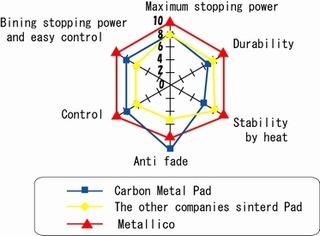 Currently, so many types of brake pads are to be sold in the market. However, it is true that the one with excellence in all aspects is very hard to find.
By focusing on and utilizing two aspects, "braking force and durability of carbon metal pads" and "stability and controllability of sintered pads," Metallico brake pads have been developed under the concept of making the most powerful brake pads in the world.
◆ Development concepts
◇ Powerful braking force resembling to carbon disks
◇ High anti-fade brake pads even for midsummer races
◇ Stable performance for general roads and even road races
◇ Durable and rotor-friendly brake pads passed on by carbon metal pads
◇ Grand prix riders are impressed with Metallico's controllability

Deceleration gravity constantly converts rider's fingertip into linear. That's what the Metallico does!

◇ Regardless of weather or temperature, Metallico brake pads exercise the best performance. (They are evaluated to be stable under wet conditions.)
◇ Metallico brake pads achieve maximum efficacy for conditions at any operating temperature, even for extremely cold streets or intensely hot endurance races. They also are characterized by its excellent controllability.
◇ Riders can comfortably squeeze the brake and release it as intended.
◇ Metallico brake pads do not require preconditioning. They will demonstrate 70% or higher performance after the new Metallico brake pads are installed.
◇ Metallico brake pads prevent aggression against the rotor by forming various types of material membranes to the rotor.
◇ Special materials and others in Metallico brake pads also clean the rotor. (It will be more effective if you constantly remove dirt built up in the slit section of the pads.)
◇ Metallico brake pads will not choose the rotor materials! Of course, the efficacy may vary depending on the materials.
◇ Metallico brake pads are very long-lasting. Most of the teams using Metallico brake pads did not need to change them during the Suzuka 8h Endurance Race and Motegi 7h Endurance Race!
◇ Our records show that Metallico brake pads were not changed after 20,000 km run on the street in some cases.
◇ Most brake pads undergo rapid attrition when pads are heated up, such as during circuit runs. However, Metallico brake pads demonstrate excellent durability under any temperature range.
◇ In consideration of enhanced performance, stability, change cycles of rotors and pads, Metallico brake pads can be determined as reasonable products.

We constantly research, develop and improve our products to deliver more enhanced performance and safer products to our customers.
Please note in advance that we may change specifications of our products without notice.

Metallico is the trademark of AUTO STUDIO SKILL Co., Ltd.